Dear partners and friends (en français plus bas),
Despite the challenging international context, we are pleased to announce the second investment in 2022 made by Regenero Impact Fund (RIF) in K-Ryole, a French company designing, manufacturing and distributing smart electric trailers.
K-Ryole's smart sustainable vehicles provide a key contribution to the energy transition necessary to build a Regenerative Economy. Complementary to the micro-mobility solutions developed and democratized by our investee Dott, which raised over USD 70 M last year, K-Ryole brings innovative sustainable vehicles to enable the last-mile and last-meter delivery sector to reduce its environmental footprint as well.
From its brand-new 5000 sqm facility in southern of France (Tonneins, Lot-et-Garonne), K-Ryole manufactures cyclo-logistics solutions based on its own patented effort-cancelation technology. The company has already sold over 500 vehicles to leading logistics players, such as Pick-Up Logistic, Stuart, Monoprix, Petit Forestier, B-Post, DB Schenker, and to large construction corporates such as Kiloutou, Bouygues Constructions, Vinci, among others.
Through RIF, Quadia co-led the company's EUR 10m Series B together with BPI Digital Ventures, with Edify Investment Partners, Aquiti, IFPEN and ARDEV also participating. You can read more on quadia.ch where you can also find the official press release (in French).
Please feel free to contact Marion Schuppe, Impact Investment Manager, at schuppe@quadia.ch for further information.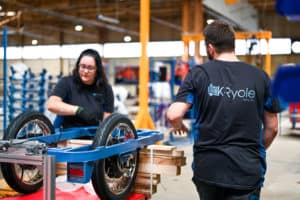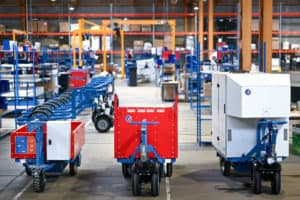 Les start-up industrielles à succès sont rares dans l'Hexagone. K-Ryole en est une et se donne les moyens de changer d'échelle.
Après notre dernier investissement dans Dott, nous sommes heureux d'annoncer le second investissement de l'année 2022 par Regenero Impact Fund (RIF) dans K-Ryole, un autre acteur révolutionnant la mobilité. Cette jeune entreprise industrielle française innovante et responsable contribue pleinement à la transformation des secteurs de la logistique et de la construction vers les principes de l'Economie Régénératrice qui nous sont chers.
Forte de cette nouvelle levée de EUR 10.5m, co-leadé par Quadia et BPI Digital Ventures, l'entreprise va accélérer le développement, la fabrication en France et la distribution de ses véhicules électriques intelligents. Avec sa technologie brevetée d'intelligence embarquée, K-Ryole a en effet développé des solutions de cyclo-logistique permettant de réduire les émissions carbone et d'améliorer les conditions de travail des employés des secteurs de la logistique, en particulier de la livraison au dernier kilomètre, et de la construction.
« K-Ryole s'inscrit pleinement dans notre stratégie de contribuer au développement d'une économie régénératrice en apportant des solutions créatrices de valeur économique, sociale et environnementale, en particulier dans le secteur en pleine croissance de la livraison du dernier kilomètre, responsable de 25% des émissions de gaz à effet de serre du secteur de la logistique. », dit Marion Schuppe, Directrice d'Investissement chez Quadia.
Nous sommes ravi.e.s d'accompagner Nicolas Duvaut, le CEO et co-fondateur, et toute son équipe dans le développement de sa force commerciale sur tout le territoire français et européen et de nouvelles innovations pour continuer à adresser les grands défis environnementaux et sociaux de la logistique.
Pour en savoir plus, n'hésitez pas à contacter Marion Schuppe à schuppe@quadia.ch et à consulter le communiqué de presse officiel.
Co-investisseurs: BPI Digital Ventures, Edify Investment Partners, Aquiti, IFPEN, Ardev.
Conseils des investisseurs: Jérémie Swiecznik (Degroux Bruguere)