(English)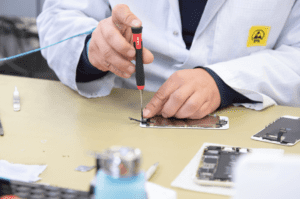 The Regenero Impact Fund managed by Quadia in cooperation with Banque Degroof Petercam, has exited its participation in Sofi Groupe, the French refurbished electronics company, by selling its stake to the listed european digital group Econocom.
In a world where the demand for raw materials is continuously increasing, we are pleased to have accompanied Sofi Groupe over the past 3 years. Sofi Groupe has been able to bring another vision to the smartphone refurbishment sector in France, with a more committed and regenerative impact approach. We share here below some of the impact highlights of the company, realized since Quadia's initial investment in 2019.
Based on the principles of the circular economy since inception, Sofi Groupe's activity aims to avoid wasting resources thanks to an innovative industrial model allowing to process practically any type of device, regardless of its brand or condition. For example, in 2021, 95% of the materials used (phones, spare parts, cardboard packaging) were reused or recycled. Sofi Groupe thereby saved 4 594 tons of materials by extending the life of the devices sold, while 82% of the phones purchased by the company were repaired and sold, a particularly remarkable figure compared to its sector peers.
This environmental commitment has increased over the last two years: a 75% increase in the proportion of used phones and spare parts purchased from France, the use of 100% renewable electricity and a 40% reduction in water consumption. These changes illustrate the acceleration of Sofi Groupe's positioning towards a more resilient and sustainable business model that translates into real economic benefits.
The ISO 14001 environmental and social certification, the work carried out with French Environment and Energy Management Agency ADEME as well as their commitment to employ workers who were previously in long-term unemployment, testify to the systemic nature of the impact strategy carried out by Sofi Groupe. In line with this commitment, the company has formally amended its articles of association to become an "entreprise à mission" with the following mission: "to actively support the extension of the useful life of electrical and electronic equipment, Sofi Groupe is committed to developing an innovative industry, which is both meaningful and creates value in the circular economy."
---
(Français)
Le fonds d'impact Regenero géré par Quadia en coopération avec Banque Degroof Petercam a cédé sa participation dans l'entreprise française de produits électroniques reconditionnés, Sofi Groupe, au groupe européen digital Econocom.
Dans un monde où la demande en matière première ne cesse d'augmenter, nous sommes heureux d'avoir accompagné Sofi Groupe au cours de ces 3 dernières années. Sofi Groupe a su faire émerger une autre vision, plus engagée et plus régénératrice du secteur du reconditionnement de smartphones en France.
Conçue dès son origine autour des principes de l'économie circulaire, l'activité de Sofi Groupe contribue structurellement à éviter le gaspillage des ressources au travers d'un modèle industriel original, qui lui permet de traiter tout type d'appareil quel que soit sa marque ou son état. A titre d'exemple, en 2021, 95% des matériaux utilisés (téléphones, pièces détachés, emballages cartons) venaient du circuit circulaire, de réutilisation ou de recyclage et. par conséquent, non issus de l'extraction de matières primaires.  Sofi Groupe a ainsi économisé 4 594 tonnes de matières en prolongeant la durée de vie des appareils vendus. En effet, 82% des téléphones achetés par l'entreprise ont été réparés et vendus, un chiffre particulièrement remarquable par rapport à d'autres entreprises de reconditionnement.
Cet engagement environnemental, au-delà des standards du secteur, s'est encore accru ces deux dernières années : une augmentation de 75% de la part des achats de téléphones usagés et de pièces détachées provenant de France; une consommation d'électricité 100% renouvelable ou encore la réduction de 40% de la consommation d'eau. Ces changements illustrent l'accélération du positionnement de Sofi Groupe vers un modèle d'affaires plus résilient et durable, porteur d'avantages économiques réels.
La labellisation environnementale et sociale ISO 14001, le travail de filière réalisé avec l'ADEME, ainsi que l'engagement pour le retour à l'emploi de personnes qui en étaient éloignées, témoignent également du caractère systémique de la stratégie d'impact menée par Sofi Groupe, qui est naturellement devenue entreprise à mission afin de promouvoir la raison d'être suivante :  « contribuer activement à la prolongation de la durée de vie des équipements électriques et électroniques, Sofi Groupe s'engage à développer une industrie innovante, porteuse de sens et créatrice de valeurs en économie circulaire. »